Yesterday I went thrifting. It's one of my favorite things to do but I don't do it often. There's a point where vintage collections start to look like a garage sale in your living room and I want to stay far, far away from that place. But since I am once again rearranging, organizing, and decorating my sewing room, I am on the lookout for some specific things – frames, porcelain birds, and embroidery. For the most part, I stayed on task.

floral applique handkerchief
porcelain bird.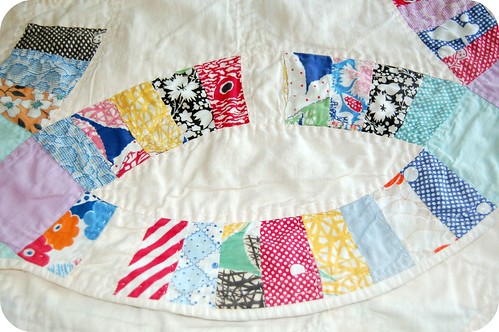 double wedding ring quilt. $40!!!! Some of the fabric is tattered and needs to be replaced but it's virtually stain-free. This quilt deserves it's own post so I'll share some more photos when I can get outside one morning before it hits 100 degrees.
I also bought a couple of shadow boxes and dainty shelves that were undergoing their makeover at press time. There will be a big reveal soon. Promise.