A couple of years ago, my husband designated 4 pm as "Tidy Time" and he would fold laundry and put things away for about an hour. I know that he was gently trying to inspire me to clean the place up, but it really hasn't stuck. (I blame the often cluttered surfaces in our home on the lack of storage in our 1950s house.) I try in my own chaotic way to purge and clean and put things away.
My destash sale was a big help (THANKS!) and I will definitely be doing that again to reduce the volume in the sewing space. It also forced me to tidy up some piles around the room.
In the process of tidying and sorting, I found mass yardage of Amy Butler prints to destash as well as a this cute mini I forgot I ever made: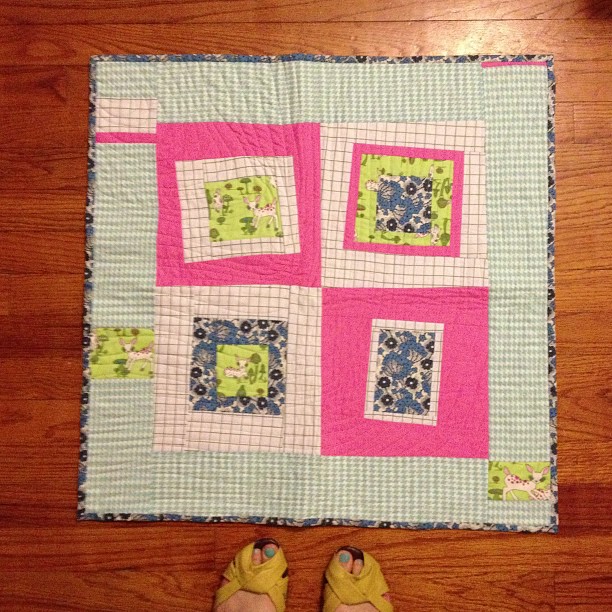 I guess one of the perks of being neat is always knowing where your stuff is. My wallet was lost for a good part of the week. It disappeared one evening after I was doing some online shopping. I looked everywhere for it and felt very annoyed/frustrated/resigned to always losing things under piles of fabric. Tonight I found the wallet deep under my son's book shelf.
Naughty baby and perpetual unfolder of fabric: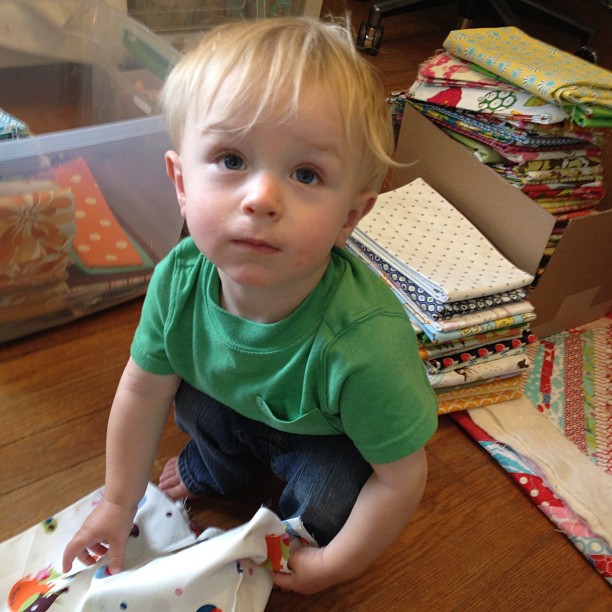 I finished two more WIPs this week (HOORAY) so weather please be lovely tomorrow so I can photograph them. (I started two new projects today (using scraps so they almost don't count as new, right?) which sort of offsets my two finishes. Blast.)