Lori's quilt + a vintage find
Cross another one off my WIP list! I started this quilt for my sister back in April. The colors are punchy and bright so it suits her beautifully.
She helped me photograph it on my last day in Houston over the weekend. We found the perfect spot in the Medical Center – a modern new building that's part of Rice University's campus.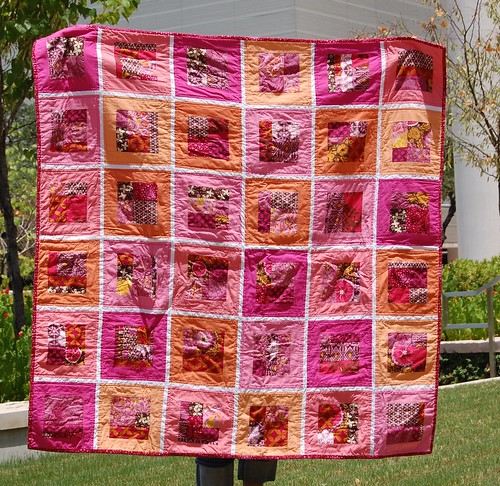 The back is a simple oversized patchwork design of mostly leftovers from the front. This kind of patchwork is fast and fun to piece and I love the impact of it. Each fabric is really allowed to shine.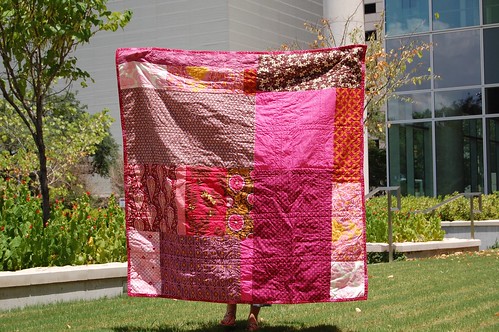 Dimensions: 65? x 65?

Fabrics: Chocolate Lollipop, Garden Party, and Good Folks by Anna Maria Horner; Love, Midwest Modern, and Daisy Chain by Amy Butler, Hope Valley by Denyse Schmidt, Alexander Henry, Mendocino by Heather Ross, Ta Dots from Michael Miller, various oranges and pinks from Bella Solids by Moda

Started: April 2010

Completed: June 2010
We also photographed my latest vintage find, an adorable scrappy hexagon quilt.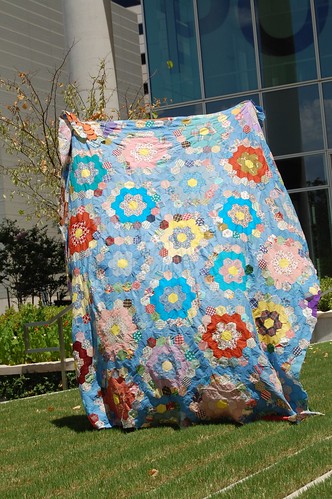 It's in the exact style that I've started piecing my own 3/4″ hexagons in so I was really excited to find it. $39 at an antique shop in the Heights.