I don't love the Texas heat but I do love summer food. The store is full of delicious berries, tomatoes, basil, mangoes, avocados…All of my favorite things. Summer is absolutely my favorite time of year to cook. Tonight I made grilled chicken with spinach and blueberry salad. I also made a rustic pesto to go with the chicken breast using some lovely basil from my friend's garden (Thanks, Gina!).
Spinach + Blueberry Salad
3 cups raw spinach, washed
1/4 cup thinly sliced red onion
1/2 cup blueberries
4 or 5 slices of bacon
1/4 cup goat cheese
Cider vinaigrette (recipe follows)
Cook the bacon over medium heat until crispy; set aside to cool. Reserve the grease. Wash and dry the spinach and blueberries. Put the spinach, blueberries, and red onion in a bowl. Toss with the cider vinaigrette. Serve with goat cheese and bacon crumbles.
Cider Vinaigrette
1/3 cup bacon grease**
2 to 3 tablespoons apple cider vinegar
1 tablespoon sugar
pepper to taste
Whisk all ingredients in a bowl. Pour over salad and toss.
**You can substitute olive oil if the idea of using bacon grease gives you heart palpitations. Here in Texas, bacon grease is a great way to start any recipe. Sausage grease is also used, especially for making white gravy to top your biscuits. Mmmm.
I had such a lovely weekend, in spite of the heat. The hubs and I spent Saturday in the pool, which is pretty much the only way to spend time outside this time of year. Today, I met up with two wonderful friends from the Dallas Modern Quilt Guild to do some hand sewing. I worked on the quilting for my Pinwheel Posies quilt (before photo here).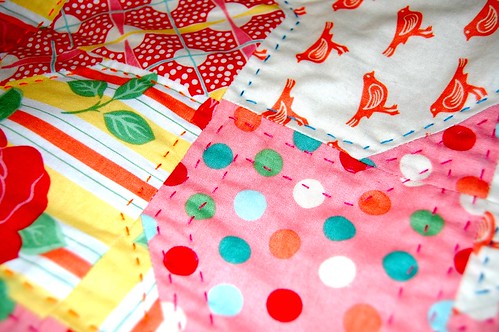 Look at that Perle Cotton No. 8! (I buy mine here.) This quilt has a bit of a vintage feel and even though hand quilting is a lot of work, I think this lovely deserves it.
How was your weekend?