Summer is definitely not made for quilting – especially not a summer as hot as this one has been. As I'm writing this, it's nearly midnight and still 97 degrees outside.
And we've got another hot week coming up. I am thankful that almost 28 weeks into my pregnancy I still don't have any swelling or major aches and pains because this would be a tough summer to be feeling unwell. Thank you, baby, for letting me feel almost normal [the growing belly is undeniably a bit awkward, but having a temporary beer belly is kind of fun. I definitely notice people giving me those sidelong "is she pregnant or fat" glances. Like tonight at dinner when my husband ordered a Cobb salad and I had a bleu cheese bacon burger with fries.:)]
Even though it is not quilting weather, I'm desperately trying to get some of my WIPs done in the 12 or so weeks I have until my life is no longer my own. While prettifying this new blog layout, I decided to rebuild my WIP list in the side bar and whoa, Nelly, it's a big one. This is probably the first real WIP list I've ever made because it was not done from memory, but by actually pulling things out of boxes and drawers. There are 29 items on the list (not counting my embarrassingly overdue bee blocks). How did I get to this point? And knowing just how many things I have unfinished, I can still think of a half a dozen more quilts that I would like to start. Never mind de-stashing and purging to make room for baby – I'm going to need my own quilting house before the year is out at this rate.
For those of you who only work on one or two projects at a time, how do you do it? Is it self-control? Lack of hiding space? Other hobbies that keep you busy? Do I need to take up tennis or bridge so that I have less time to think about quilting? I know I'll never be a one-project-at-a-time girl, but 29 WIPs is about 20 too many. It probably doesn't help that my method for getting things done is to list all of my to-dos, prioritize them, and then never look at that list again.
I was at a retreat last weekend and that helped me jump start the process. I am making some progress. I have two bee blocks ready to mail, I basted two tops, quilted one last weekend, and I have another big one on my machine right this minute. I'm even trying a new technique: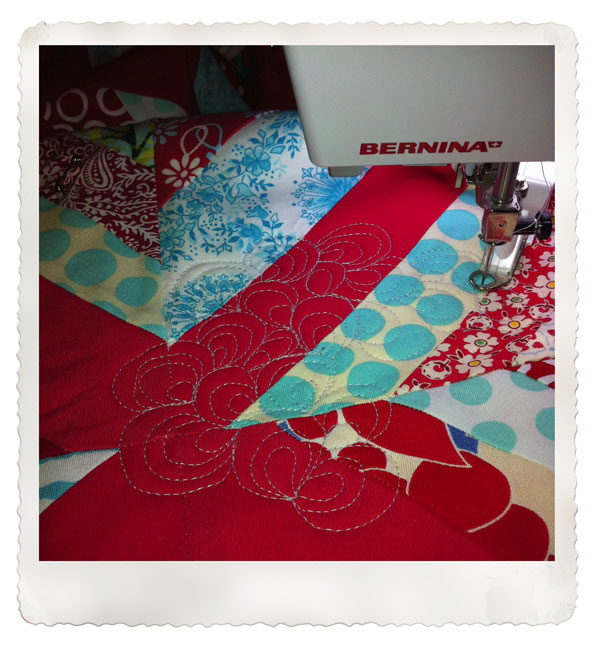 It's not as fast as stippling but I think I'll speed up as I get more comfortable with the motion. At least that is what I keep telling myself.