I Big Puffy Heart This Bag
I love this little bag so much, It's the Classmate pattern by Terry Atkinson. You can buy the pattern {here

} or at your favorite local quilt shop. I bought mine at Urban Spools. This pattern has been on my to-sew list for a while because it seemed like a good on-the-go project bag – perfect to fill with a hand-sewing or embroidery project and keep in your purse – but it also seemed like a lot of work and less fun than quilting so I put off making it.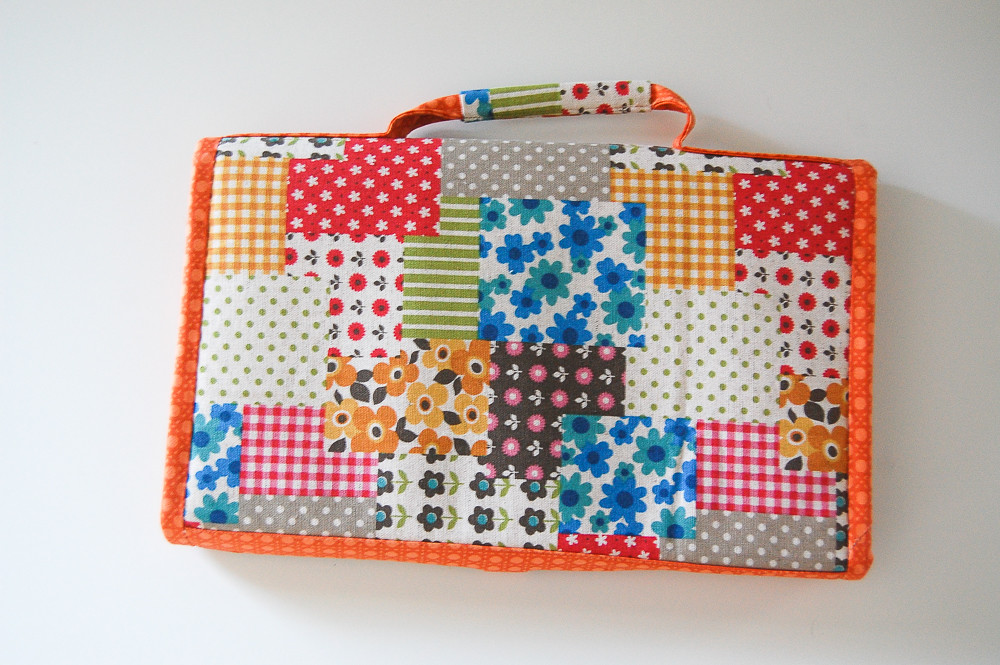 I finally started it late Sunday afternoon….and sewed every spare minute between dinner-making, toddler bedtime ritual, MBS work, and showering. I finished it at 2 am and still had the binding to add for the final touch. All told it probably took me 4 to 5 hours to make this bag. I honestly can't remember the last time I enjoyed sewing something so much that wasn't a quilt! The pattern is excellent. I mean that. I've sewn a few simpler projects in the last six months where I had to reread the directions multiple times, but I breezed right through this pattern. You gotta love a well-written pattern.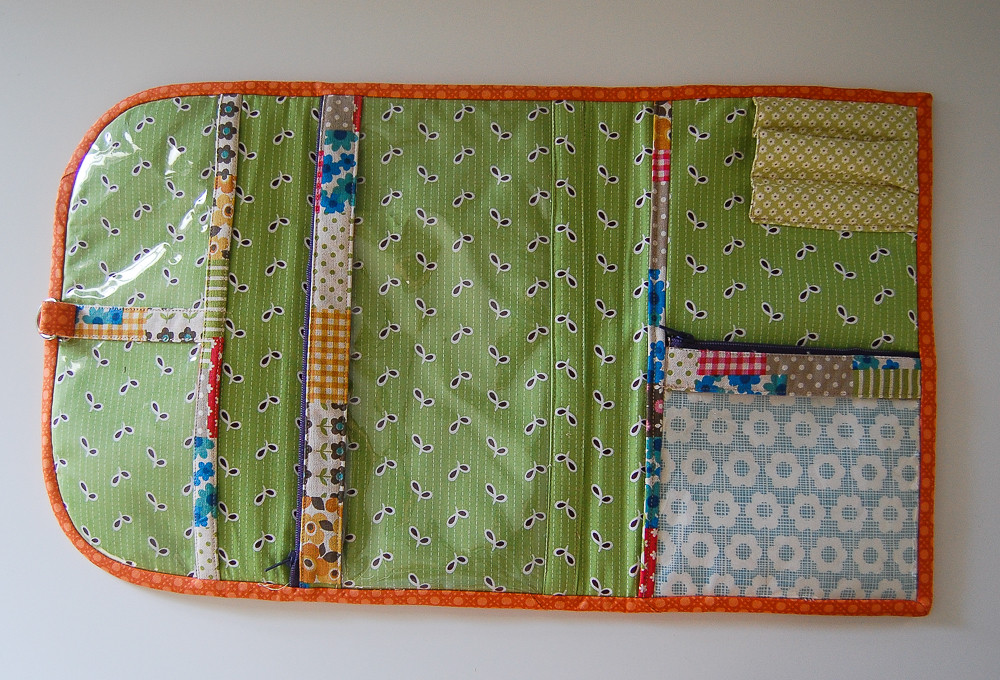 Be warned though that it's not simple beginner project. It's pretty detailed with multiple pockets, zippers, a clasp, and VINYL, which can be a real jerk to sew. But if you follow the directions exactly and have some patience, an experienced beginner can make this bag.
I customized mine a bit from the original pattern by adding in two extra prints (the lower right zip pocket and the pencil pouch). I wish I'd made the center zip pocket a different pattern, too.
This bag has lots of storage. I plan to use it for my Green Tea and Sweet Beans quilt. It holds everything I need.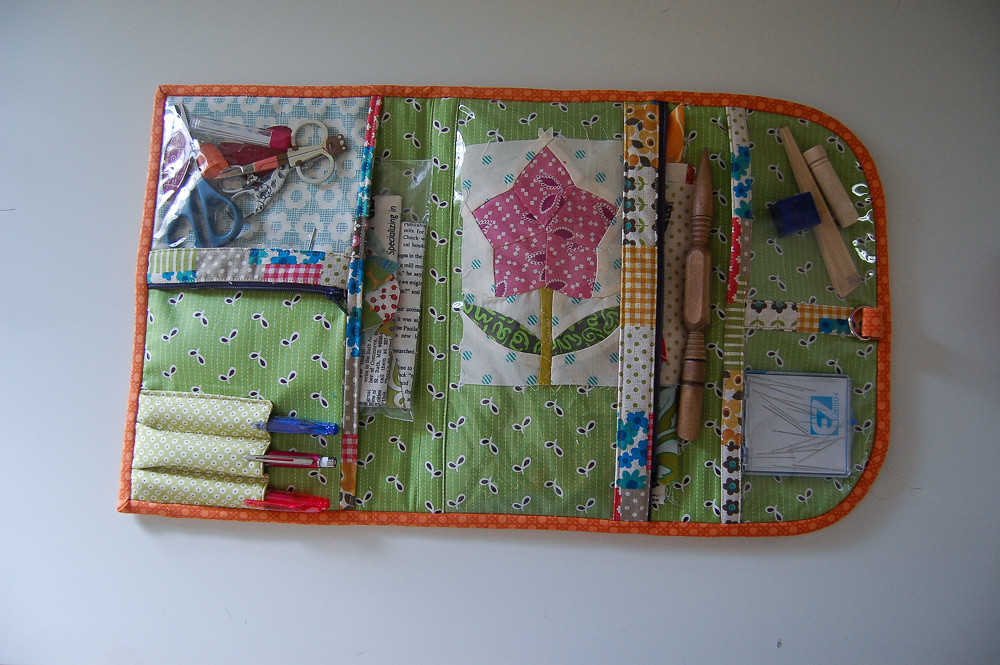 There are eight pockets! The pattern is so clever and well-designed that behind each zippered pocket there is an open-top pocket (fully lined, too!). Every step of the pattern builds on the previous one to make one really good-looking little project bag. It looks so professionally done and that is all owing to Terry's excellent pattern. I'm going on and on about this pattern and you may be starting to suspect I am BFFs with Terry or that she is giving me some kickbacks to write this post. But no. I just love this little bag so much I want to spread the word.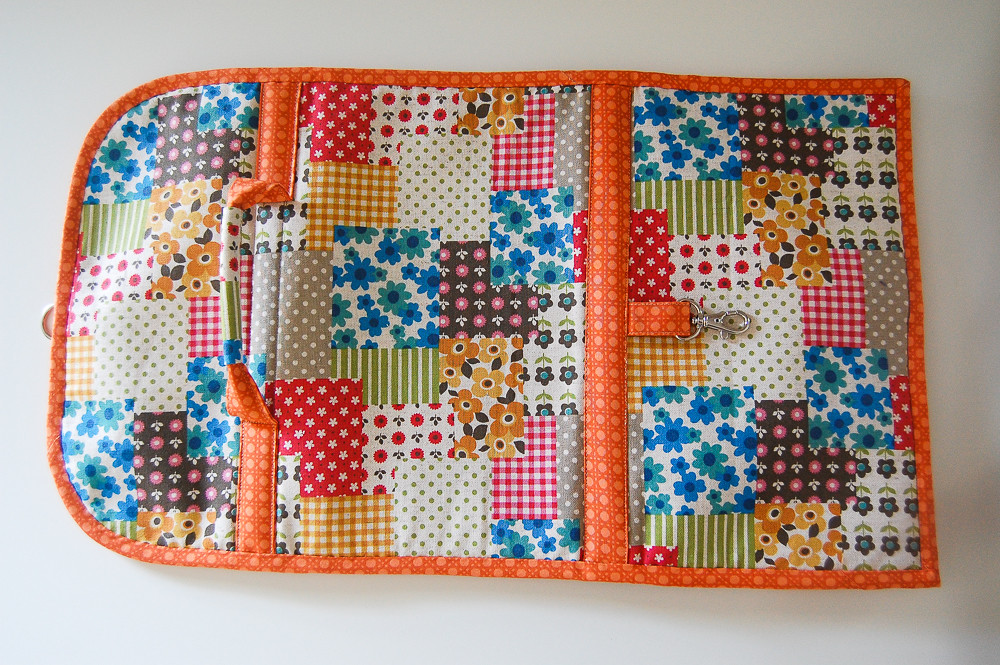 It's obviously a bag for sewing stuff, but while making it I thought it would make an awesome entertainment bag for toddlers and other small people. It can hold an iPad mini and coloring books and matchbox cars and crayons and stickers. Everything you need for a road trip or even just a peaceful dinner out. I will be making another one.
There are a couple of things I used to make my sewing easier that she doesn't mention: Clover Wonder Clips

and a Teflon foot for your machine (that just glides right over the vinyl). If you want to customize your fabrics, read all the way through the pattern to see which cuts are for the pockets and pencil pouch.
When I was showing off my finished bag to Michelle, she asked me to teach it and of course I said yes! Check the schedule at Urban Spools later this week for dates. I am seriously going out to evangelize people to the ways of the Classmate pattern. It will change your life!