Aspen Frost Improv Circles
I made this quilt as a sample for a demo I did at QuiltCon in February 2013. Yes, it has taken me almost a year to photograph and blog about it! I was kinda busy last year.
The binding is Pezzy Prints (goes with everything!) by American Jane and I quilted it with a free motion Christmas tree design that I just made up. It does require you to be able to quilt the design upside-down, as well. I'm sure there are better digitized Christmas tree quilting patterns out there, but I couldn't find any for domestic sewing machines (i.e. free hand!).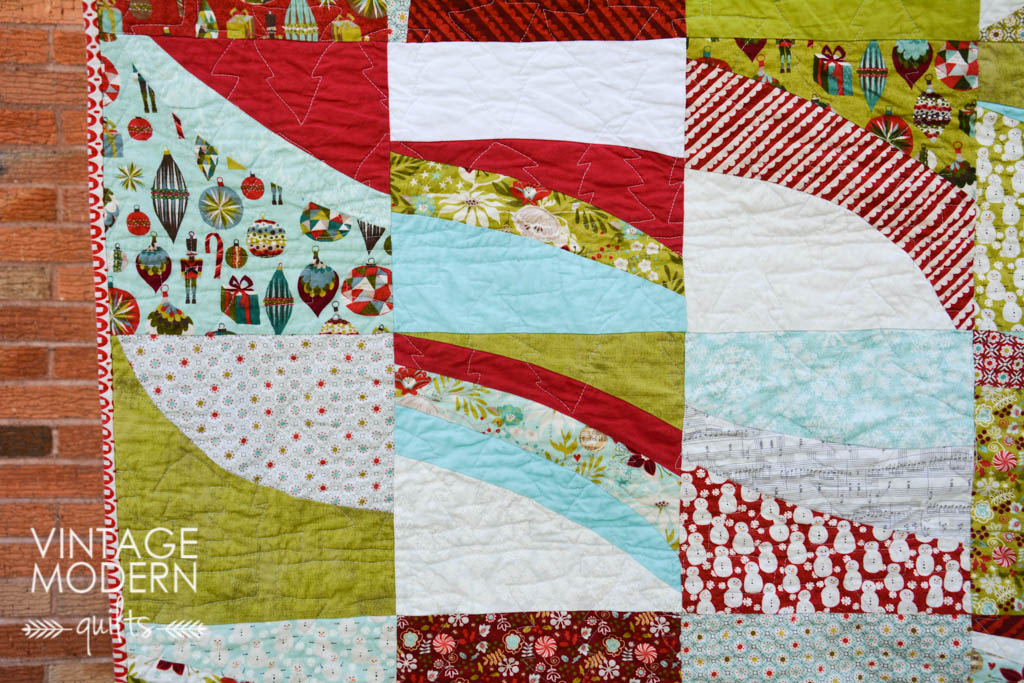 This quilt may look tricky with the improvisational curves but it's pretty easy to get the hang of the technique. It used 90% of a layer cake plus about a yard of coordinating solids for the quilt top. This was the first-ever Christmas quilt I made. My son was about 14 months old when I was working on it and he was obsessed with the snowman print. The fabric line is Aspen Frost by Basic Grey – a good modern Christmas line that you can probably still find in stores.
Dimensions: 51″ x 60″

Fabrics: Aspen Frost by Basic Grey, Pezzy Prints by American Jane, and Bella Solids by Moda Fabrics

Pattern: Original design by Lisa Calle {free tutorial on the Moda Bake Shop}

Quilting Thread: Aurifil #2600, 50 wt cotton mako

Quilting Design: free hand Christmas trees

Started: February 2013

Completed: February 2013