This baby quilt was made with the scraps from my Snippets baby blocks (which I am working on in earnest and will have mountains of them done for the bazaar!). It's 43? x 43? and perfect for a baby or toddler. I envisioned it as a play mat for babies who aren't quite mobile yet, which is why I made it square. Here is a full view of the front:

And the back…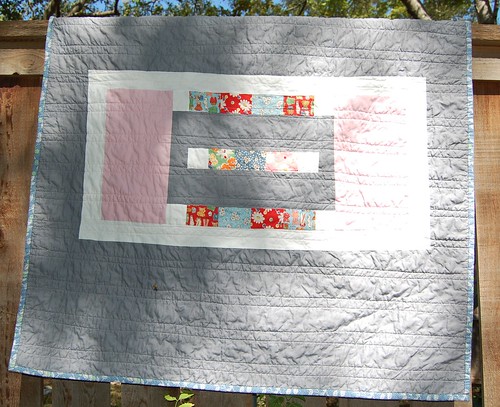 Dimensions: 43″ x 43″
Fabrics: Snippets by American Jane; solids from Bella Solids by Moda

Started: September 2009

Completed: September 2009
I think this one is going to be my last quilt for a while. I need to concentrate on making some smaller items for the bazaar. It's only 15 days away now, and I'm beginning to feel the pressure. Bibs and blocks and quilts and giveaway goodies and totes and kits and pillows. My sewing room is a complete disaster at this point, but I'm not allowing myself to think about it until after October 11. Then I am going to treat myself to a studio makeover!