It's no secret that I'm addicted to fabric. I've just about reached maximum capacity in my sewing room so I'm going to have to go on a diet. I'm getting some fabric muffin tops over here.
But then I find something like this and I find myself powerless to resist.
It's Fiona by Anna Griffin. It's O-O-P and I L-O-V-E it. [I found those two prints here and here.]
I also picked up a few more reproduction prints.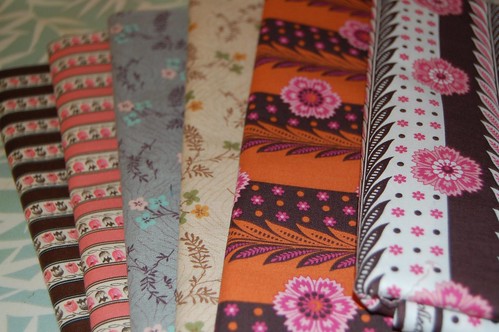 They're fabrics I would have never even discovered a few months ago because I was just sure I hated anything reproduction (besides 1930s, which is like the Beach Boys of fabric. Everyone loves 30s prints. And the Beach Boys.)
The gray floral is especially wonderful in person and I highly recommend getting a bit.
Now I have fabric guilt and must make something new. Maybe that's why I have 17 quilts in progress? I'm the yo-yo diet quilter.