This first quilt is one that I started late last year. I ended up getting frustrated with the quilting and I put it aside for a long time. My plan was to cut it up to use the fabric for something else…but a week ago I decided to pick out the bad straight-line quilting and giving it another go with stippling. I'm much happier with this result. The vintage sheet I used for backing it is incredibly soft and snuggly.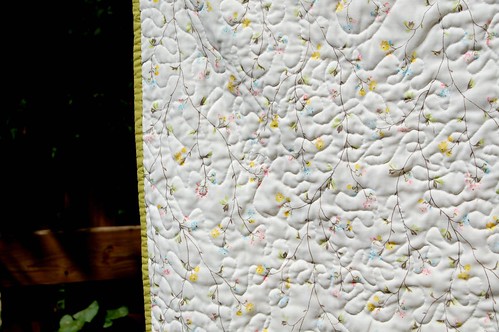 Dimensions: 51″ x 37″

Fabrics: Hushabye by Tula Pink, solids from Bella Solids by Moda, vintage floral for backing

Started: December 2009

Completed: August 2010
This next quilt is called Vintage Florals. I sold it as a kit in my Etsy shop and this is the sample that I finished last week…ages after the kits all sold out. Oops.

The back of this quilt is chenille so it's a nice heavy quilt.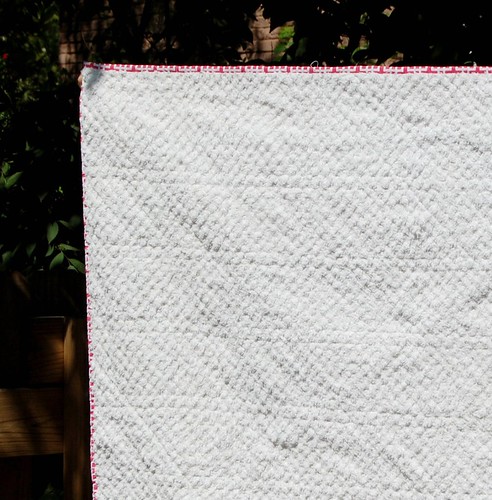 You can just get a peek of my new quilt label in this photo. Moose always thinks that he is supposed to be the focus of any photography that occurs in this house.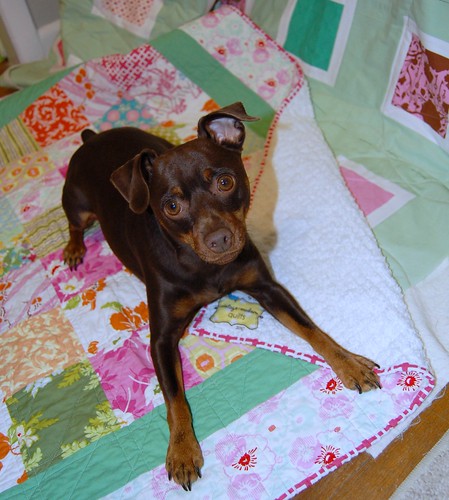 What a brat.

Dimensions: 41″ x 41″

Fabrics: Nicey Jane and Pop Garden by Heather Bailey, Girly Girl by Art Gallery, Dolce by Tanya Whelan, Love, Lotus, and Midwest Modern by Amy Butler, Mendocino by Heather Ross, solids from Bella Solids by Moda, chenille for backing

Started: December 2009

Completed: August 2010