I really wanted to finish the top for my "Belle Squared" quilt this weekend but of course I ended up short on the grass green sashing. Instead I worked on other things – hand quilting, sorting scraps, cleaning my studio space a bit – and I finally hung up some of the art I thrifted over the summer.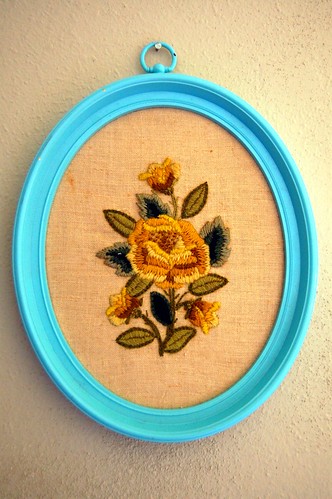 I rearranged my studio a couple of months ago and moved a large storage piece to another room. I'm happier with this layout because I have a lot more floor space, but my actual workspace is still a bit of a problem [older photos here]. The entire desk is covered! To add to that, I normally have my iPad on that little pullout shelf just below my laptop. [I adore this desk. It's a 1950s/1960s executive desk that I bought for $20. That little pullout shelf has probably held a lot of martinis and low balls of scotch over the years, if Mad Men is to be believed.]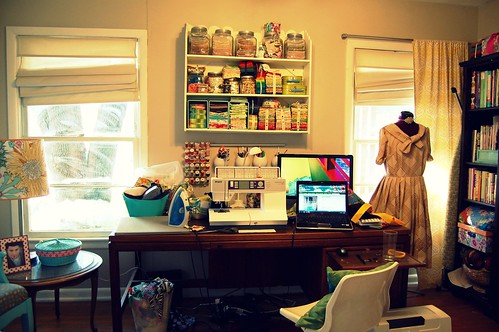 There's just too much going on in that one area. It frustrates me. I'm thinking about moving the computer to my cutting table and just cutting on the desk. Well, on the mat on top of the desk.

My fabric area is also pretty much at maximum capacity.
Every time I look at that shelf, I think "wow, I had really better get started on some more quilts." I'm sure my husband thinks something similar. Ha.
I also spent some QT with my seam ripper this weekend. It's my newest favorite notion of all time. [purchased at the retreat last week.] It looks like something Dexter would use.
Yikes, right? It works soooooo well. I recently bought a couple of aprons on Etsy solely because they were made with some of Erin Michael's long OOP and seriously lusted after Paint by Number Birds. I felt a tiny twinge of guilt for basically shredding something another person made, but this killer seam ripper let me do it without damaging any of the fabric. So now I have my Paint by Number Birds and the start of two cute aprons! Win/Win.
I gave up making aprons when I started quilting because all of the cutting seems so tedious, but I sure had fun re-making this one. Part of the appeal must have been that it was 90% complete. All I did was cut a new front panel and sew it all back together.