Here is a peek at my studio right now. I did clean up a little for these photos but I decided that I didn't want to pretend that my sewing space is pristine. Because with an active 9-month old in the house, it certainly isn't. He loves getting into bins and boxes and drawers and pulling every single item out. So this is "real life" tidy. I've changed things up a lot since my last studio tour.
I have smaller sewing surface that provides a lot of book storage. I'm happy with it for now, but some day I will have a drop in table for my machine. In my next sewing room…
I did get a new cutting table this past year, and I absolutely love it. It has tons of storage, adjustable dividers in each drawer (the drawers also pull out completely so you can see everything), and I like the open lower shelf to corral all of the baskets and bins I already had. Since I started doing some scrapbooking again this year, this cutting table has been really useful. I only wish I had room for two! One for quilting stuff and one for scrapping. Again, in my next sewing room…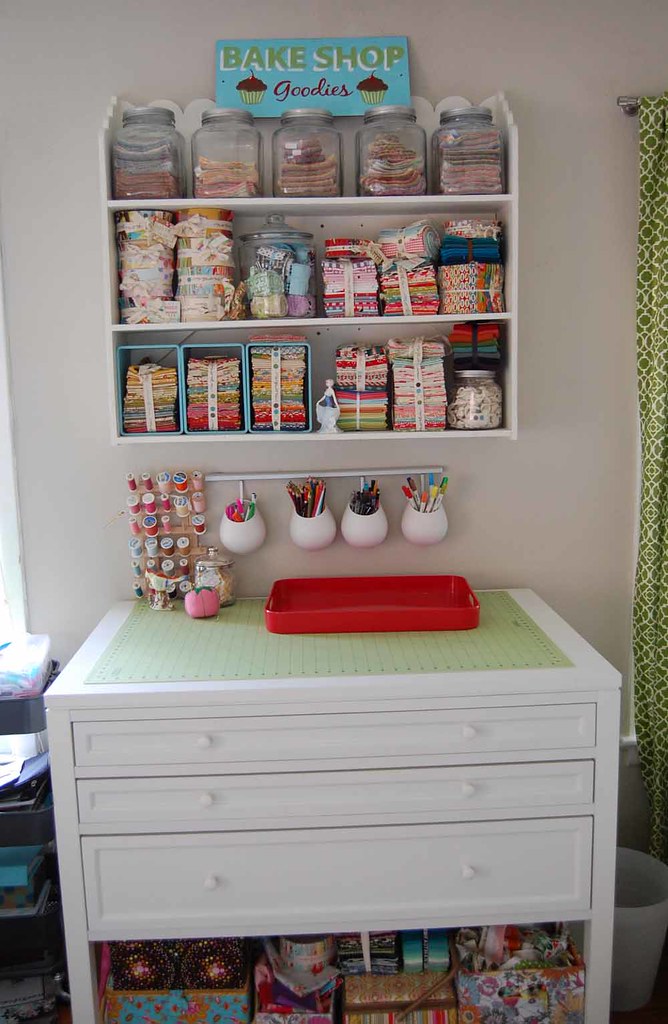 With this new desk, I also have a separate work space, which is very, very nice. It's not as convenient for watching movies while I sew, but I don't have the time to sew in such long stretches anymore. (And I highly recommend that chair from the Container Store. It really is comfy.)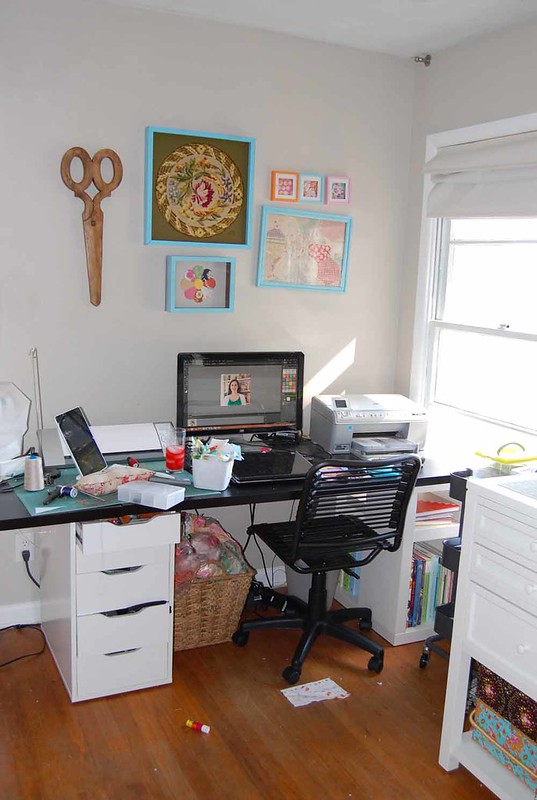 I put all of my 1 yard plus fabric pieces on mini bolts to take up less space so I'm down to the one bookcase (for prints and quilting weight, at least). I would like to thin it out even further if I can force myself to really destash. For all of you who covet a big fabric stash, I will say this…Yes, it is nice to have so much variety, but it is also overwhelming. It tends to kill my inspiration when I look at all that fabric. I have learned that I DO NOT need to stash 1 yard or bigger pieces. When I need bindings and backings, I will buy them then. Half yards and fat quarters are plenty large enough for the kind of sewing I do. Half yards are ideal actually because you can cut into two fat quaters, use one, and still have one to stash.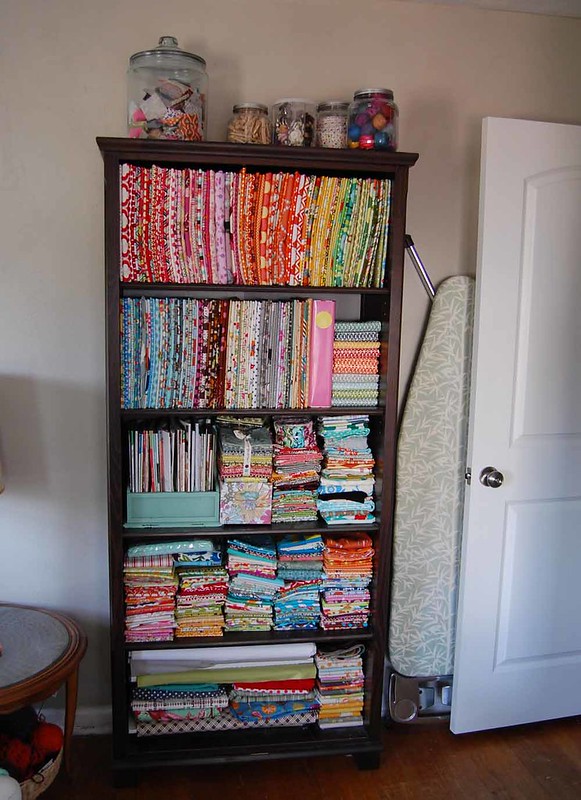 This corner is my favorite part of my studio (after my cutting table)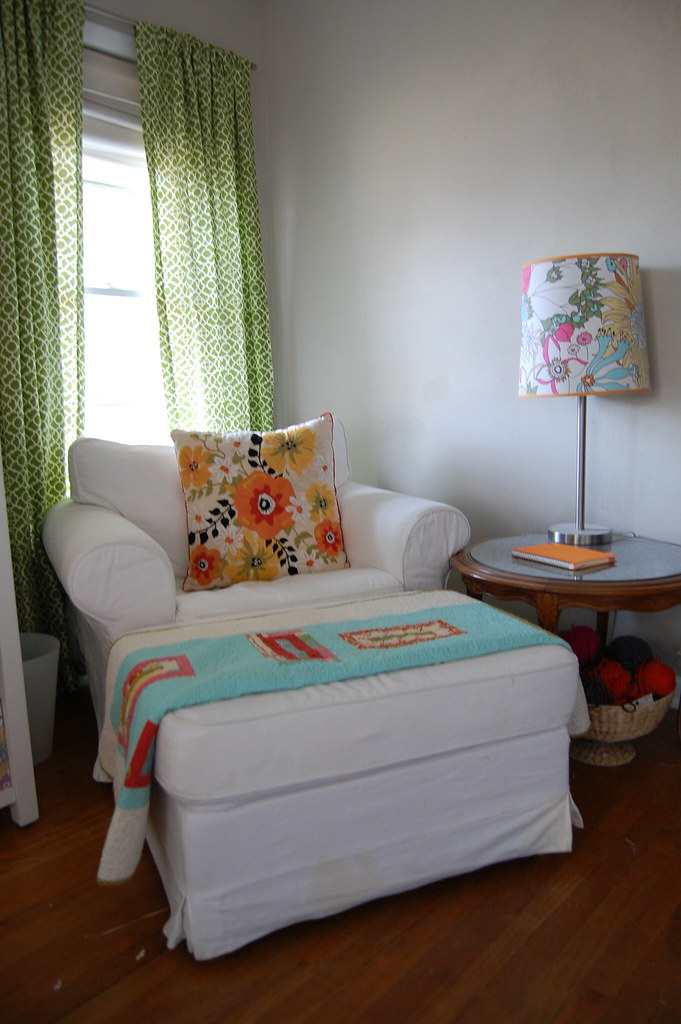 I don't sit there often but my dogs and baby seem to really enjoy it. They tell me it's comfy.
This last photo is part of my sewing room that I have never shown. The closet! Eek. This is where I hide my WIPs, fabric and notion overflow, srapbooking stuff, and just a miscellany of things that make me ask myself, Why did I buy that? The top left shelf that is just out of view is stuffed with pillow forms. There are about 20 pillow forms there. Why?! I don't know. My husband would probably have a heart attack if I ever covered them and put them around the house. Two pillows on the sofa is too much for most men. I'd really like to tackle this closet one day. My goal is for all of my fabric to go in here. I dream of a tidy space with just 12 WIPs in those perfect ArtBin containers, and a perfectly folded stack of fabric. Someday…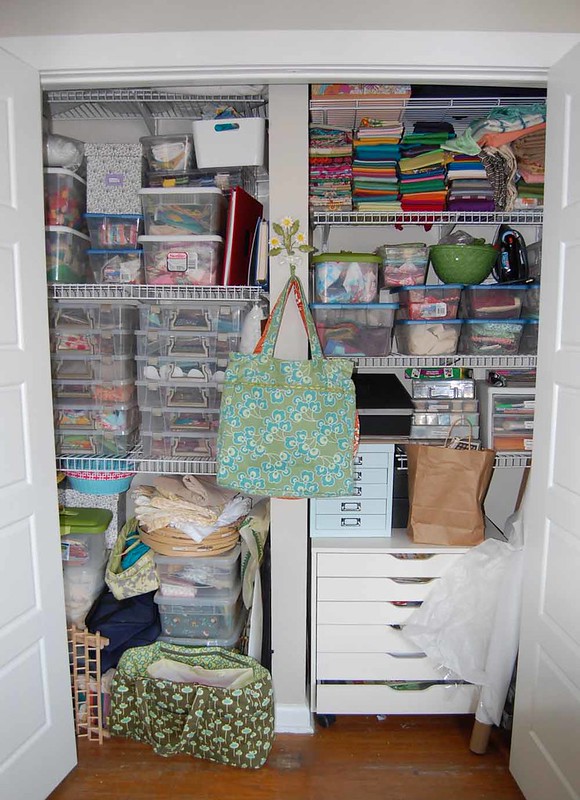 So that is my space. The things I love about it most: lots of light, my Martha Stewart cutting table, my Bisley drawer unit (shown above), and my Bernina.