This quilt is the perfect example of how to get WIPs finished. It languished in a box for nearly a year until I took it on retreat in the spring. My goal was to create a couple of intricate borders to make it larger but I decided it wasn't worth so much extra effort for something that was cute as is. I even skipped the batting and basting, opting instead for a simple turned edge with rounded corners. Lesson learned: instead of always trying to make something unique, just finish it!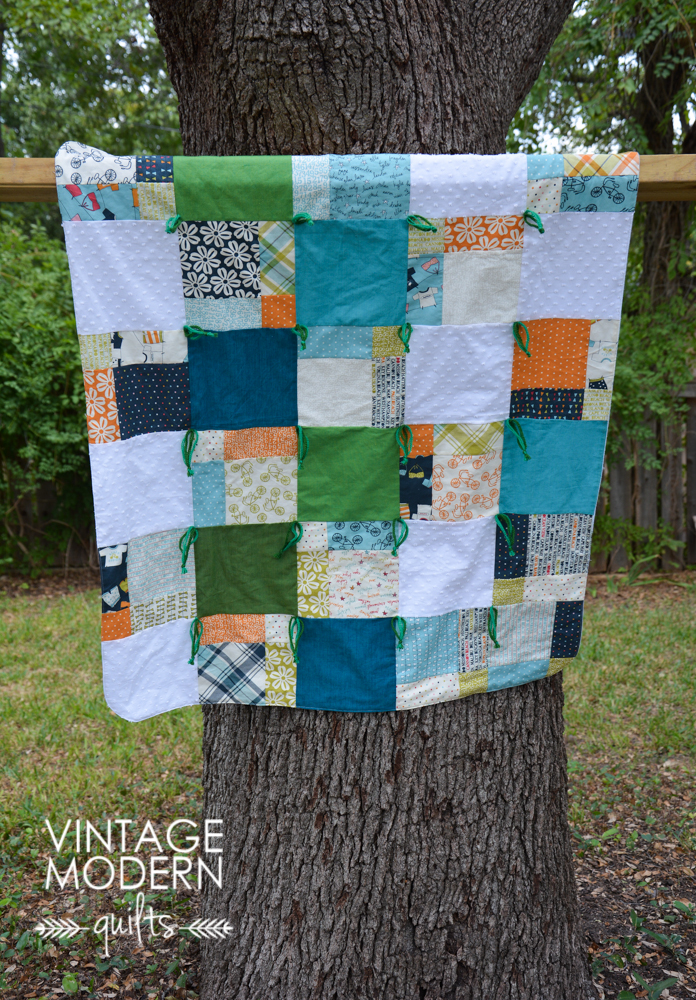 It's the perfect size for a stroller quilt, which is something we need now that fall is finally (kinda sorta) here (it was in the 90s all week). It will be nice to have on trips to the Arboretum later in the fall.
The pieced blocks are disappearing nine-patches made from one charm pack (minus all of the pink prints in the line). I mixed in patches of solids – crossweaves, shot cotton, and a white swiss dot – to add texture. There's no rhyme or reason to the layout since I had odd numbers of things.
Now I'm the first to admit that I never thought I'd make a tied quilt. But this one just seemed to need something extra. I had two skeins of vintage wool in my crewel stash that were pretty close to a perfect match. The ties are more like tassels than a traditional tied quilt.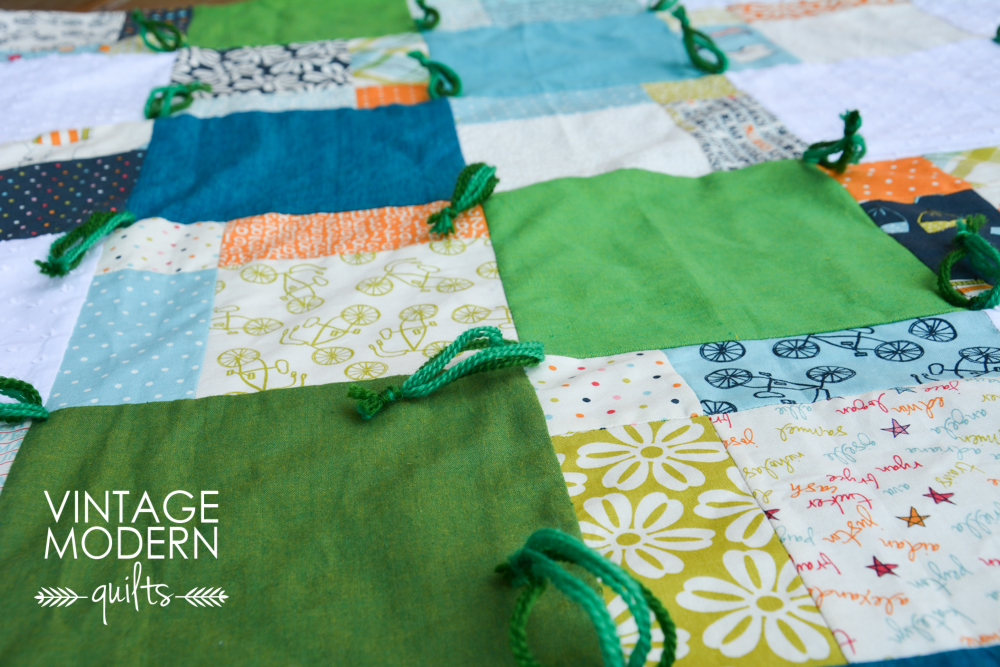 Something this simple and this small would be a perfect baby gift. Instead of doing such long ties on the quilt top, I'd probably do just French knots and then make tassels to go all around the quilt edge. Next time!
Dimensions: 33″ x 39″

Fabrics: Lucy's Crab Shack by Sweetwater, Crossweaves by Moda Fabrics, shot cotton by Kaffe Fassett, swiss dot from Michael Miller, flannel backing from JoAnn's.

Pattern: Disappearing 9-patch with plain blocks

Quilting Design: Tied with wool thread

Quilting Thread: Aurifil 2600 for top-stitching

Started: May 2012

Completed: September 2013