Tonight I'm trying to catch up on bee blocks and get some work done on a custom quilt. The to-sew pile is starting to get too big for me to ignore.
Last night I put off my must-sews and tested out two quilt blocks to see which project I want to start next. I'm feeling motivated to cut into my massive stash of my pre-cuts.
First up, a Dream On layer cake…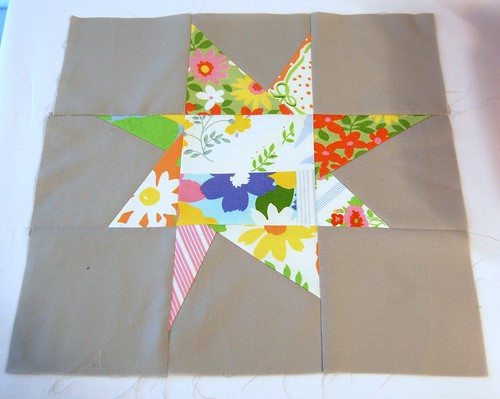 My friend Melanie was working on some wonky stars at our quilt retreat in the spring, and her choice of Dream On worked like a dream (ha ha! puns are fun). So I copied her!

To be slightly original, I've used gray as my background instead of white.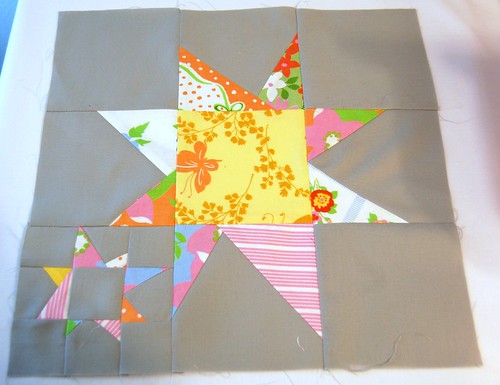 I like these blocks, but I'm not sure that I want to make an entire quilt of them. So I put the whole mess in a ziploc and started playing with some American Jane charm squares. I really feel like these fabrics want to become pinwheels. I Googled and Flickred pinwheel patterns for an hour and only found one pattern that I loved. Like head over heels love. But it's complicated and will require graph paper and charts and lots of planning. I'm more of a wing-it kind of girl. So I took two charms and 2 5-inch squares of scrap fabric to test an alternative.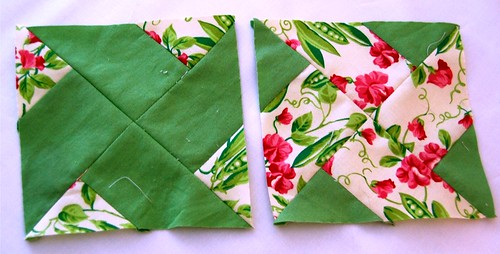 So boring. It doesn't have the movement and whimsy of the pattern I fell in love with. My love just may be deep enough that I'll have to break out the graph paper and do some planning.
[This is the pattern. So American Jane-esque, don't you think?]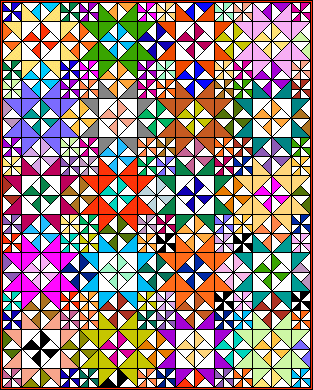 [p.s. My blog and bee friend Penny of the awesome Sew Take a Hike blog is having a triple giveaway. I didn't want to leave it to chance so I went ahead and bought one of the kits she's giving away. I CAN"T WAIT FOR IT TO GET HERE!!! *squeeeeeee*. But you should enter because those kits are selling out pretty fast. Or just play it safe, like me, and buy one.]