Over the holiday weekend, I met my good friend Gina at a quilt shop in Houston to check out the selection. If my fabric budget for the year wasn't already blown, it is now. There were so many good things that I just could not pass up!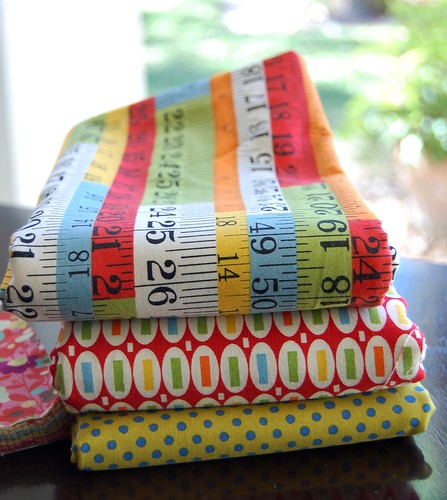 [Wee Play yardage by American Jane, Wonderland yardage by Momo]
They had yardage of several American Jane prints that I've wanted to get my hands on for ages. I also picked up some polka dots to bind the Wonderland quilt that I started in the spring. That one is next on my list to get finished this year.
The pre-cuts selection was impressive (and super tempting). I got a layer cake and charm pack from Wonderland and several American Jane charm packs. They had Blossom by Urban Chiks, which came out in 2007 and is very hard to find. A month ago I almost seriously overpaid for a jelly roll of the line on Etsy and I'm really glad I resisted because I picked up the charm packs for only $8 each.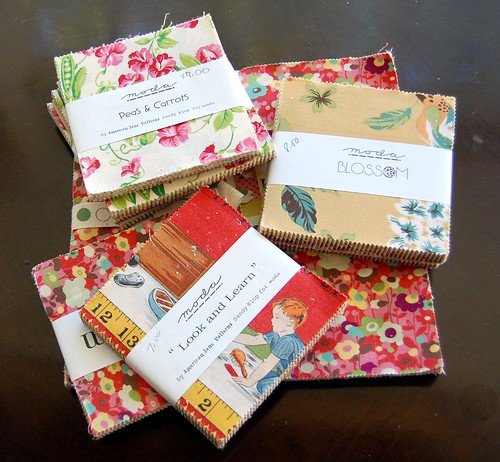 [Peas and Carrots, Blossom, Look and Learn, Wonderland]
It's a fun kind of a thrill to find out of print lines and to stash some more bits and pieces of lines I really love (mainly Wonderland) but I also feel a bit like my stash is getting out of control. I tend to hoard the pre-cuts, and I really need to go ahead and use them. That is going on my 2011 resolutions list.