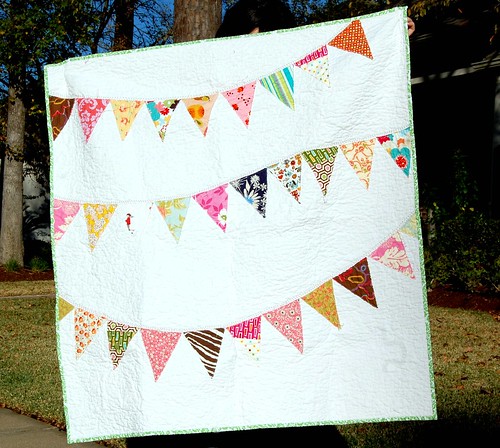 This quilt was made for a good friend's new baby – a tiny, sweet girl named Rylee Paige. Her mom Amanda is the Vice President of the Dallas Modern Quilt Guild. The quilt was a collaboration between the guild officers, inspired by our friend April's version (also a guild member! I can't tell you enough how fun, talented, and inspiring the DMQG ladies are.)
Each of the ladies contributed the bunting flags from their stash, and I put the quilt together.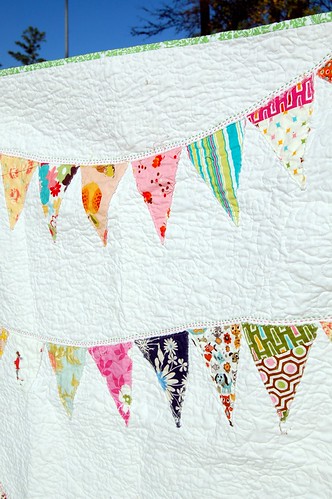 (Don't you love the pieced flags by Monica?)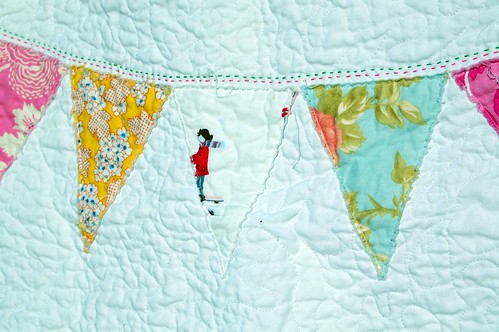 Little Rylee even has some yet-to-be-released Sherbet Pips courtesy of the famous Jenny Garland.

This quilt was finished at Thanksgiving and I had to keep it a secret until all of us were able to get together and give it to Amanda. I'm terrible at keeping good secrets so that was a rough few weeks for me. I wanted to tell Amanda every time I saw her in person, on Facebook, or on email. Torture, I tell you!
I know we are all so happy to know you, Amanda, and be a part of your family's life. We can't wait to watch Rylee grow into this quilt. Congratulations!
xoxo,