I unpacked my retreat stuff tonight and realized that I forgot some of my quilt blocks on the design wall. Looks like I'll be trying to sweet talk the 1890s House into mailing them to me or making a 30-minute drive to get them. BOO.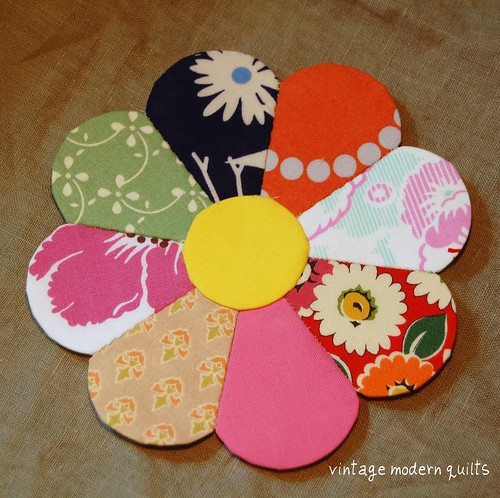 Tonight was the first time I felt like sewing again since I've been home from the quilt retreat so I did a bit of paper piecing. These little Dresden plates are addictive! And they're the perfect way to use up scraps. The finished plate measures about six inches across so it's going to take quite a few of these to make a quilt. When I bought the paper piecing templates, I saw an even smaller version that seemed ridiculous but now I'm tempted to go back and get a few. I can think of lots of uses for tiny Dresden plates.
In other news…if you're in Dallas/Ft. Worth, don't forget that the Dallas Modern Quilt Guild is having a monthly Saturday Sew this weekend. It's a lot of fun! You can find details and RSVP here.