A few weeks ago my friend Jamie lent me her copy of Amy Butler's new book, Style Stitches. This book is full of cute bag patterns, and I've been dying to make one since I saw them in Amy's booth at Quilt Market in the fall. Several of the bags resemble her awesome but pricey Sweet Life bags (my favorite was the Hampton bag) but the patterns are simpler with fewer pockets and zippers.
Since one of my goals for this year was to do more non-quilting sewing, I decided to make the Cosmo bag:
Don't ask me why I didn't pick fabrics from my ridiculously large fabric stash. I saw these prints from Dwell Studio on fabric.com and they just made me buy them: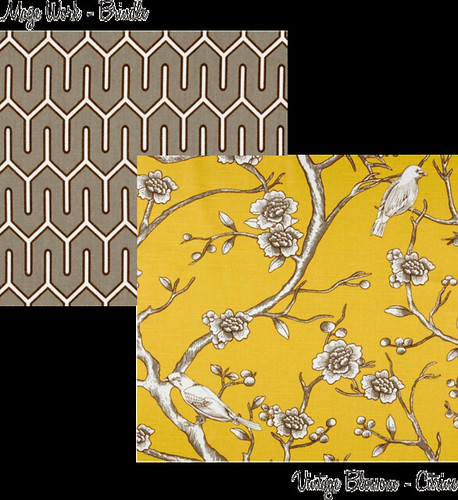 The yellow bird print will be the main body fabric and the maze print will be the straps. The prints (especially the yellow) are large scale so I'm crossing my fingers that the bag will be large enough to do them justice. I can't wait for the mailman to deliver this fabric!
If you are making or want to make any of the projects from this book, there is a sew-along on Flickr.