I signed up for a year-long Baltimore Album quilt class at a local shop called Happiness is Quilting. This is actually the first quilting class I've ever taken, and I'm very excited about it. Our first class was a couple of weeks ago and I'm already feeling very inspired and full of ideas. If you're not familiar with the style, this is a Baltimore Album Quilt:
It's all needle-turn applique and each block has a lot of symbolism for the woman who made the quilt. I think traditional Baltimore Album quilts are lovely, but I was really inspired to make one after seeing the wide variety of traditional and contemporary ones on display at Quilt Festival in Houston last November. I really like the idea of personalizing the traditional blocks to tell the history of my family.
Our homework from week one was to choose our background fabric and our focus fabric, and to create a papercut block. I'm still stuck on the fabric choosing part. Background fabric is traditionally white or cream on BAQs, but for a truly modern quilt, a colored background would be gorgeous and unexpected. The focus fabric sets the color palette for the whole quilt so it's important to choose a fabric that you truly love. Here are the options I'm considering: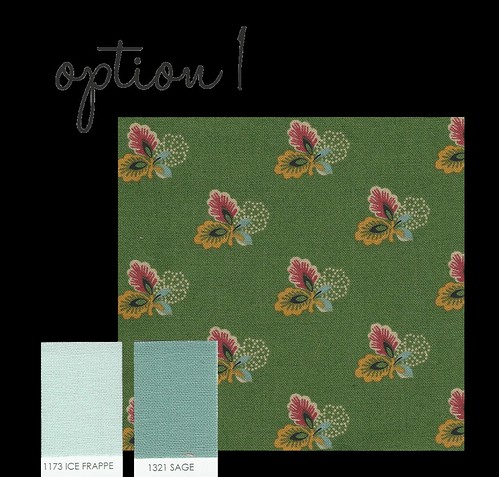 Option 1 is a Jo Morton 1850s reproduction print that is very traditional, with that rich poison green color I love so, so much. My background options are Kona Ice Frappe and Sage. I think the Sage is probably the one I'd choose. I can imagine myself always loving this fabric and the colors really are timeless so this option is very tempting.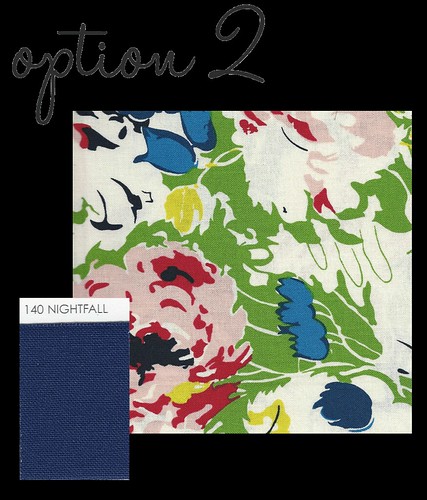 Option 2 is an Anna Griffin print from her Darcey collection paired with Kona's Nightfall solid. The colors in that floral print are pretty timeless as well and not that different from the Jo Morton print above. The print is a whole different story, though. It's not a traditional floral, but it reminds me of a 1950s dress. The dark blue background fabric would make for a pretty dramatic quilt.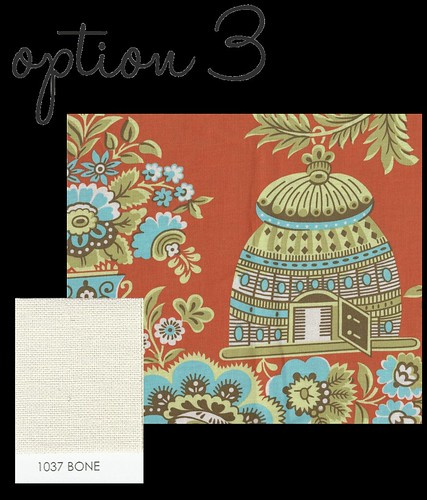 Option 3 is one of the wallpaper prints from Amy Butler's Belle collection paired with Kona Bone. I'm already working on a quilt featuring Belle, and this fabric is impossible to find so that's a vote against it. The colors in this fabric are just divine, though. Kona Bone looks really good with the rusty orange color in the Belle fabric. The whole palette is just spot on. On the other hand, the fabric is a large scale so most of the pattern would be lost on a 12″ to 14″ block.
It's going to be hard to choose!