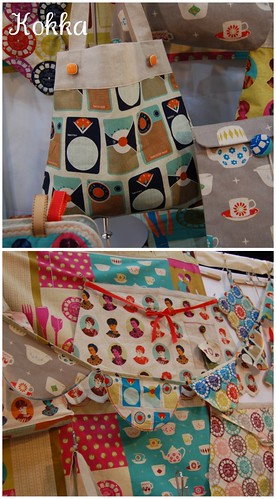 I was able to fulfill every quilter's dream this past weekend…I went to International Quilt Market in Houston!!!!! I've wanted to go for the past couple of years and even though my fall schedule is super busy, I managed to fit in one day at the market. I went with my friend and business partner, Michelle. Next year, I'm definitely going to set aside the full weekend to attend because we missed a lot of the fun stuff (parties and sample spree, especially!). We did get a few goodies, too, which I didn't expect since we were only there for one day.
We were able to preview fabric lines that are going to be in stores this fall and into next spring. We also saw a lot of awesome patterns and notions that we are thinking of stocking in our shop, Urban Spools. If you've ever been to International Quilt Festival at the George R. Brown Convention Center in Houston, you know how big that place is. HUGE. Quilt Market is not nearly as insane as Quilt Festival, where you can hardly move between booths. I enjoyed Market far more, and I especially enjoyed being able to see all of the competition quilts on display that stay up through Quilt Festival this coming weekend. Most people don't mention those quilts in their market reports, but they are really one of the best parts of going. [no photography allowed in much of the exhibit so I didn't even take my camera out of the bag for that part of our visit]
Now on to my favorite topic…fabric! Before going to market, I was already familiar with many of the collections that were upcoming from the big manufacturers. I did see quite few from Moda that I hadn't seen or heard of before. Let me tell you, save your fabric budget for spring time.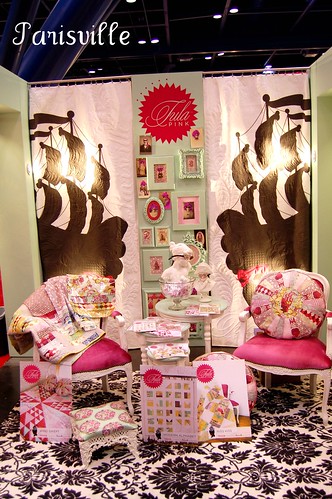 Parisville by Tula Pink for Freespirit. I'd seen previews of this collection online and wasn't crazy about it. I liked it. I thought it was pretty. But OMG, it's stunning in person. Really and truly so beautiful and chic and it has so many colors with a harmony of lights and darks that you don't often find in "modern" quilting fabric collections. Tula Pink's booth was also one of the best at market. I could just kick myself for not getting photos of the two quilts she had on display. I was too busy with the custom M&Ms that said Tula Pink on them and were in Parisville colors! My only complaint about Parisville is that since she's no longer with Moda, we won't be able to get all of the pre-cuts I love so much. Freespirit offers some pre-cuts, but the pricing seems much higher and they're hard to find.

Arriving in stores November 2010.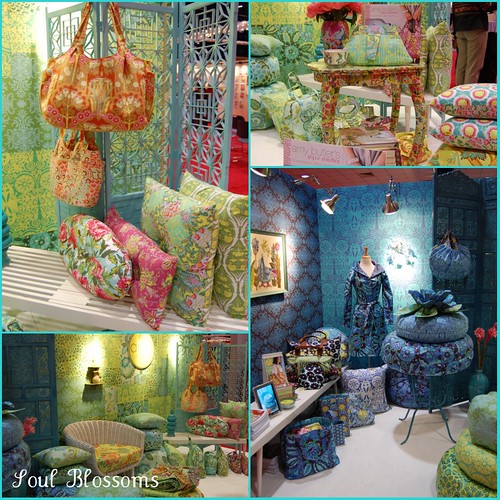 Soul Blossoms by Amy Butler for Freespirit. Soul Blossoms is just sort of…okay. I normally only mention things I love, but I know people will be interested because Amy Butler is so popular. Some of her older collections [Midwest Modern 1 and 2 , Belle (my all-time fav of hers), Lotus, August Fields] are classics, but I haven't been impressed with Love or this new one. It's very bright. Several of the prints are really pretty and her booth was completely perfect and photo-shoot ready. The samples bags from her new book, Style Stitches, were cool enough that I want to try making purses again. But Amy, for your next collection, please go back to some of the richer hues you used in Belle and Nigella. Please?
Arriving in stores December 2010.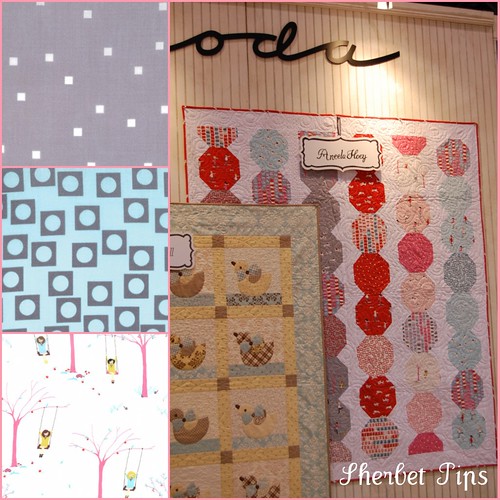 Sherbet Pips by Aneela Hoey for Moda. This is a smaller collection from a new designer (whose blog I've been reading for a couple of years and you should too because it's completely charming) but it's packed with cuteness and some really great basics that you'll use in many quilts. Sherbet Pips is going to fly off the shelves so don't wait to buy it (sorry, you will have to wait a bit because it doesn't come out until spring!)
Arriving in stores April 2011.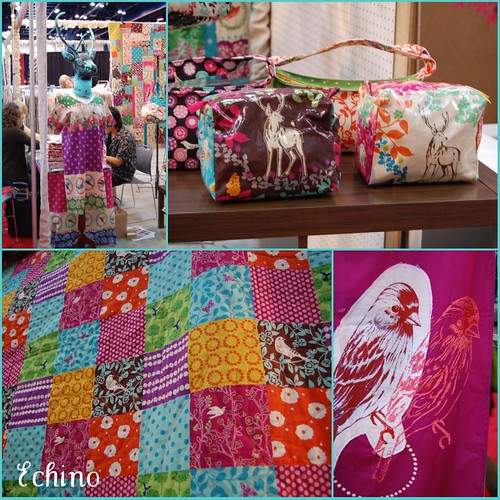 Echino Fall 2010 by Etsuko Furuya for Kokka. This collection will please anyone who likes Echino. It is more like her collections from a year or two ago, which is a good thing. Her booth was one that made me want to steal all of the samples. She had a lot of great bags and tunics on display.
Arriving in stores November 2010.
Haven's Edge by Tina Givens for Freespirit. This is another beautiful collection from Tina Givens. It's more feminine and less quirky than the last one with the owls. There are a few prints that are worth buying 1 or 2 yards of because they're really good modern basics. [The photos I took of her booth are the worst. The lighting in that area was really bad so go look at her site for a better look at the collection.]
Arriving in stores 2011.
A few other things I learned:
Cloud 9 organics is coming out with a price-sensitive collection in the spring that will make organic fabric accessible to more quilters. The pricing will still be higher than traditional cottons, but they are considerably lower than most organics. Also, I love organic flannel. Not a fan of regular flannel, but the organic stuff feel more durable and isn't so fluffy.
There is finally an all-gray collection. Finally! Daisy Janie's newest collection Shades of Grey is the answer to your prayers. Organic cotton; arrives in stores early 2011. It feels sturdier than your standard organic or quilting cotton, so you can use it for quilts or home dec projects.
Penguin and Fish makes really cute embroidery patterns and kits [plus she's really nice].
Urban Chiks are bringing back some of my fav dots in their new Hullabaloo line (available April 2011). This line has lots of grays and some cute, modern boy-friendly prints (which are hard to find)
Kaffe Fasset's striped shot cottons are coming back!
I would love to take Sandy Klop of American Jane to the Dallas Modern Quilt Guild retreat this weekend. A few months ago, I heard her speak at a Dallas Quilt Guild meeting and I was struck by how funny, entertaining, and humble she was. Her quilts are astounding – so original and inventive – and she makes so many of them! Her color palettes are always bright and joyful. I especially adore her retro-styled collections like Recess and Snippets. We spent quite a few minutes chatting with her and she's just such fun. It was like talking to an old friend. Her sample quilt for her new pattern Party in the Hen House was one of my favorites of the show. (the striped fabrics are men's shirts that she picked up at the thrift store – yet another reason why I adore her!)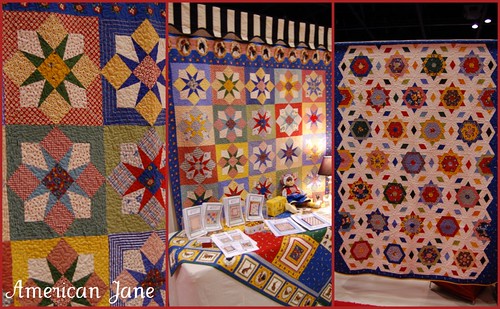 [LOTS more quilt market photos here]
*UPDATED * I can't believe I didn't mention this. Thanks to Rachel for reminding me in the comments. The Kokka fabric shown above is called Ruby Star Rising by Melody Miller and it is 100% awesome. It's probably one of my favorites from market. You can see more of it on the designer's blog.