I've had a little stack of Far Far Away 2 fabrics sitting on my cutting table since the end of July. The deal I made with myself was that I would complete three quilts before cutting into it.
DONE!
I didn't even realize until today, when I was updating my WIP list, but I've completed three quilts since July and have two more + a table runner that just need binding.
Sadly, though, one of those quilts was completed and sold at a craft market before I ever had a chance to photograph it. It was one I made using my Gridlock pattern. This sad, wrinkled photo is the only thing I have to show for it.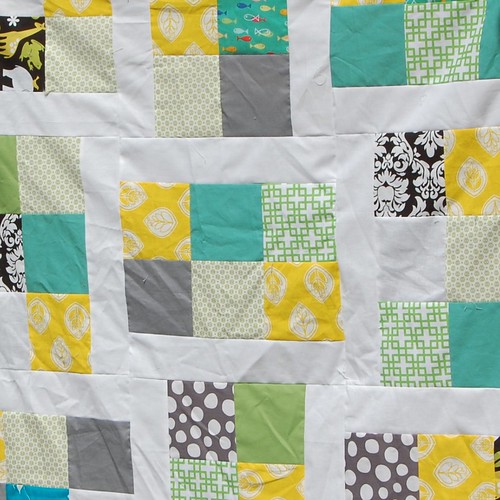 Dimensions: 42″ x 42″

Fabrics: Zoology from Michael Miller, Flutterby by Tula Pink, Woodland Delight by Paula Prass, Dandy Damask from Michael Miller, various others, solids from Bella Solids by Moda

Started: May 2010

Completed: September 2010
[my other two finishes were blogged here]
It's fun to complete a goal you've forgotten about. And the timing for a new project is perfect with the Dallas Modern Quilt Guild retreat coming up this very weekend. So I've been adding to my little stack (original stack on the right)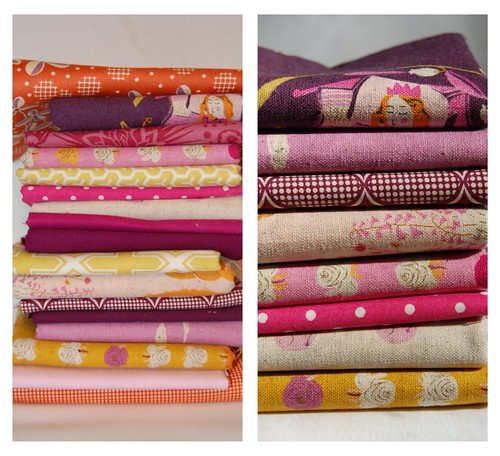 It may need further refining but I'm really like it so far. The colors are not quite accurate in the new photo because I had zero natural light. Does it need more orange? Less purple? A true grass green? That last one wouldn't be a bad idea at all.