I mailed all of my blocks for the Scrappy Christmas Block Swap and my summertime mini quilt yesterday. This is the last time that I will do two swaps while I'm trying to get ready for a craft show! I've been feeling a little overwhelmed in the last few weeks.
I do really like how my swap items turned out, though. First, here are the Christmas blocks:
We used Oh, Fransson's scrappy hedgerow tutorial. I just logged into the Flickr pool for our swap group this morning and saw that there has been a lot of discussion about making your blocks 12.5 inches by following the tutorial exactly. I honestly didn't worry about that. I figured that everyone's blocks would be a little bit different because we weren't all using the same scale fabric for our center fussy cut squares. My method was to just add strips until I liked the results and it was over 12.5 inches. Then I trimmed down to size. These two blocks are are my favorites: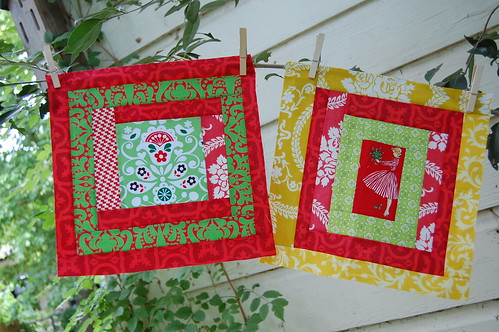 They don't really follow the rules of the tutorial because I used the same fabric for all four sides on a few of the hedge rows, but that's what I like about them. It adds some punch.
And now for the Summertime Mini Swap…This quilt was supposed to be between 12 and 24 inches and have a summertime theme. I found some summery Urban Chiks fabric at my local quilt shop and I mixed in a few others from my stash to make this: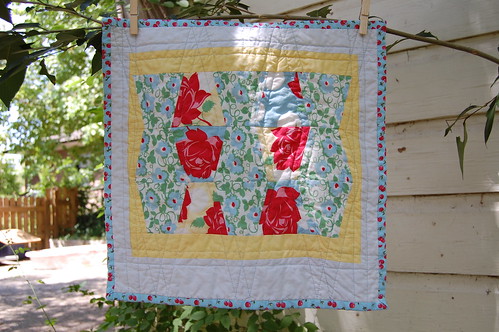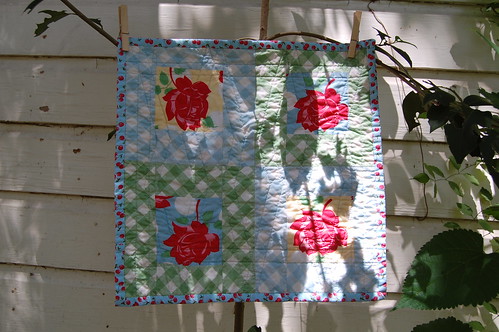 I hope my swap partner likes it! Every time I look at it, I think of lemonade for some reason. That's very summery.