Life is Messy and So is Crafting
My sewing space normally looks something like this:
But with a craft market on the horizon, I've been feverishly sewing and it currently looks like this: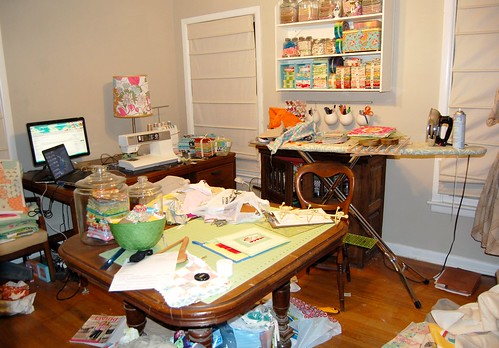 OMG messy, right? I can't stand it anymore. Must. Clean. Up. (Yes, I've rearranged the furniture again.) Someone please call Hoarders on me so I can get some help.
While refueling on supplies, I witnessed quite an incident at JoAnn's today. Isn't that place the worst? As I was browsing the magazines near the register, I heard this tall man call out in a booming voice that I'm sure the whole store heard. He said something along the lines of "Can you please quit chatting and finish checking her out so you can help the rest of us? You've been chatting for 15 minutes." He went on a little more and then talked to the manager afterward (also in front of everyone in a super loud voice! What kind of manager wouldn't have taken him aside?!) The whole time I was feeling a strange mixture of horror and glee. I've stood at the register at JoAnn's many a time seething at the horrific customer service but I've never done anything about it. So while I was shocked at that man chiding the cashier, I was secretly elated. JoAnn's has consistently awful service, every store is a mess, they harass you about the coupons and then can never seem to be able to scan them, and don't even get me started on the ordeals of fabric cutting. You know what that JoAnn is? A frenemy. I need to cut her out of my life for good. And then write a scathing memoir in the thinly veiled guise of a racy teen novel like Nicole Ritchie did to Paris Hilton.